Travel Books
Travel books as Lonely Planet, Rough Guides, Footprint, Time Out and more.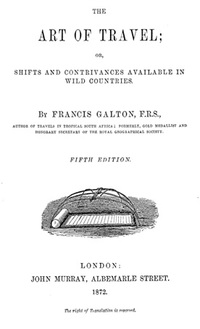 For more than 100 years before Lonely Planet`s popular travel guides, the British adventurer Francis Galton wrote the world`s first travel guide for adventurers. The title was "The art of Travel - Shifts and Contrivances Available in Wild Countries" and contains plenty of practical advice. In this book you can get a greater insight into the life of a Victorian explorer.
---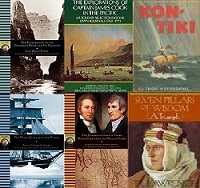 In May 2004 National Geographic`s Adventure Magazine published a list of the 100 greatest adventure books of all time. They are what the magazine call "Extreme Classics". These books are still inspiring for modern explorers.
---
A guide to 878 UNESCO World Heritage sites, this publication is illustrated with over 650 full-color photographs. Location maps for every site are also included. Read about Taj Mahal, Machu Picchu, the pyramids in Egypt, Uluru - Ayers Rock, The Great Wall of China, the Great Barrier Reef, Stonehenge and more. A handy reference book for inspiration and better explorations of the the world unique sites.
---
Rough Guides has made a selection of the Iceland`s highlights in the new edition. The country offers outstanding buildings, natural wonders, historic sites and abundant wildlife. There you can experience Dettifoss, Lake Mývat, Geysir, The Blue Lagoon, whale watching, Eiríksstaðir for experiencieng Iceland's Viking history at this reconstruction of Eirík the Red's farm in Haukadalur valley. And there are more!
---
The most useful thing you need to bring with you on trips is travel guides. These guides provide you with information about destinations, safety, cultures, customs, festivals, sport activities, accommodation and more. They help you to make the best out of your journey. Sharing travel experiences with others have been Rough Guides main focus since it started. Rough Guides celebrates its 25th year by publishing Rough Guides 25s: Ultimate Experiences, a collection of ideas and inspirations to help enrich peoples travelling life.
---
The next year is the Peer Gynt Year. Then it`s hundred year after the famous Norwegian author Henrik Ibsen died. Announced in a press release on 14 October this year (2005), the Ministry of Culture and Church Affairs, informed that it has suggested for the National commitee to give 12,7 million Norwegian kroner extra in grant for celebrating Norway's big son. All together this Ministry intend to contribute with 19 million kroner. It`s also proposed to spend 8 millions kroner from the Ministry of Foreign Affairs` budget dedicated to the finale big show in Egypt.

The celebration will be marked with over 300 arrangements around the world. The finale arrangement will as mentioned be in Cairo, Egypt, at the Great Pyramid of Giza. The scene play will be accompanied by music from another famous Norwegian, Edvard Grieg. It will be dance, theatre and music based on Ibsen`s poem about the great adventurer Peer Gynt, inspired from a true person from Vinstra. As dramatically told about in the poem, Peer Gynt talks to the Sphinx in Cairo. It's a travel tale beyond all imaginations.
---
Here we present some of the most popular travel books as
Lonely Planet,
Rough Guide,
Time Out,
Footprint etc.

It could both for inspiration and for useful advise.
---
Top-Five Stories

Meeting the Mudmen
in Papua New Guinea



See the video HERE