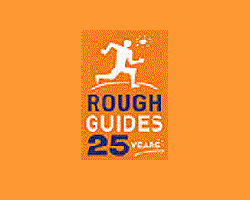 Image. Increase your appetite for travelling through Rough Guides special edition! © The image in the middle is taken from Rough Guides.
Keep updated about the opportunities in the world for great adventures by reading guide books. Rough Guides is an excellent source for information and inspiration.
Rough Guides it's like an eyewitness to the world. The company publish guides to hundreds of worldwide destinations, as well as benchmark books on subjects as diverse as Climate Change and Ethical Living to iPods and Opera.
A group from Rough Guides began writing the books 25 years ago and wanted to inspire readers to break away from established routes, to find pleasure in remote islands or in street culture.
According to Rough Guides, whether it's drifting down the Amazon, hot-air ballooning in Africa, running with the bulls in Spain, or staying the night in a Borneo longhouse, you'll get plenty of ideas on how to make the most of your time on earth!
Rough Guides has picked one experience from each book. On Rough Guides website you can browse through Top 25 choices and vote for which you think is the ultimate experience. Direct link for voting: Vote for your ultimate experience!
Visit Rough Guides site for more information: www.roughguides.com.
Take advantage of Rou25th Anniversary Special Discount. To celebrate, Rough Guides offers extra special discounts on purchases of Rough Guides made via Penguin US and Penguin UK.
The list of 25 must-dos feature in the new Rough Guides 25s, is full of convincing reasons for exploring more of the world.
Stein Morten Lund, 10 May 2007
Additional information
Information about Rough Guides (from its website www.roughguides.com):
• Travel guides to more than 200 worldwide destinations
• Dictionary phrasebooks to 22 major languages
• Travel Specials including 'First-Time' destination guides and World Party
• Maps printed on rip-proof and waterproof Polyart™ paper
• Music guides running the gamut from Opera to Elvis
• Reference books on topics as diverse as Climate Change and Shakespeare
• Pop culture books from the iPod to MySpace to Cult Movies
• Downloadable digital maps, e-books podcasts and podscrolls
• More than 200 World Music CDs in association with World Music Network