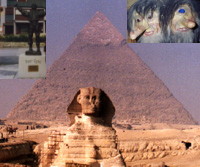 Photo.
The kingdom of Peer Gynt will be shown by the Great Pyramid in Giza, Egypt. © Steinar Nyhus and Britt Myhrer. Small images © Travel Explorations.
Henrik Ibsen is probably the most famous Norwegian internationally. He travelled abroad for nearly thirty years. Ibsen lived in Rome, Dresden, Munich and visited also many other places. On his journeys he wrote plays and directed a variety of theatres.
Ibsen`s most famous poem Peer Gynt was first published in 1867. This poem is a social satire where the main character Peer Gynt explores an unknown world and learns about life. It`s also about giant trolls of forest and mountain, creatures of the lower world, gnomes, danger seductive hulders (kind of witches) and witchcraft (sorcery), travelling out in the big world, international capitalism, power politics, culture aggression, Arab sheiks and more.
Photo. Me standing beside a statue of Peer Gynt in Vinstra, Gudbradsdalen, Norway.

Peer Gynt is a character from Norwegian folklore, known to theater audiences worldwide as the great adventurer of Henrik Ibsen's classic play of the same name. Just as Peer Gynt I was born and grew up in Vinstra.
The stories about Peer Gynt adventures in Egypt are amazing, especially the story about when he talks to the Sphinx. It`s a national symbol of Egypt. Referred from the book: "Peer Gynt examines the Sphinx attentively, now through his eyeglass, now through his hollowed hand.....".
Photo. The Great Sphinx. It has fascinated poets, scholars, adventurers and tourists also included Peer Gynt and Henrik Ibsen.
© Steinar Nyhus and Britt Myhrer.
The word "sphinx", which means 'strangler', was first given by the Greeks to a fabulous creature which had the head of a woman, the body of a lion and the wings of a bird.
Photo. Trolls from Per Gynt Kingdom - Vinstra and Gudbrandsdalen.
© Travel Explorations.
Henrik Ibsen based his book on a true person who grew up in Vinstra, Gudbrandsdalen (Norway). Here you find his kingdom with a beautiful nature that will spellbind you. Maybe that is because the Trolls enjoy themselves so much up there?
Stein Morten Lund, 27 October 2005
Additional information
These are the main ingredients in the superb book. For they who find travelling and explorations boring in the today's real world this book can be an exciting and "funny" alternative.
Image. Cover from the book Peer Gynt by Henrik Ibsen - a social satire and travel tale beyond all imaginations.

Peder Olson Hage, on whom Henrik Ibsen probably based his character, lived at Haga farm in Sodorp - Sødorp - near the village Vinstra.

More recently research indicates that Per Laurissen Hage, who lived on the farm during the 1600s, was more likely source of inspiration for Ibsen`s Peer Gynt.
For they who like to obtain inspiration from a different world, can find many of them in the book about the cosmopolitan Peer Gynt. But I warn you: watch up for the disreputable Norwegian Trolls! But don't worry too much: they only eat you once!
Many things have changed since Peer Gynt lived, but Vinstra is still a place with several myths and historical grounds. The scenery is so enormous that I am still convinced that there are still Trolls in the area. If you look carefully enough you will probably see some of them. Rule number one: never walk alone there!
The Peer Gynt collection at Vinstra (Gudbrandsalen in Norway):
The Per Gynt is an exhibition based on Henrik Ibsen`s world famous play, Peer Gynt. Here you can meet the historical Per and the literary Peer.
The exhibition presents Peer Gynt`s international reputation, in form of stage photographs, posters, programmes, costumes, books, etc. from productions in many different countries. The exhibition is displayed at Peer Gynt Stugu (old wooden house) from 1743 - a house from the farm where the historical Per lived.
Informasjon på norsk (kilde: Odin - Det Norske departementenes informasjonskanal):
Kultur- og kyrkjedepartementet foreslår at løyvinga til Nasjonalkomiteen for Ibsensatsinga blir styrkt med 12,7 millionar kroner til 19 millionar kroner i 2006.
"Ibsen er kanskje den mest kjende nordmannen i utlandet. Han er ein kulturell døropnar for Noreg. Det er dette perspektivet som skal prega hundreårsmarkeringa for Henrik Ibsens død", seier statsråd Svarstad Haugland.
For mer informasjon, se departementenes informasjonsside ODIN: Odin-info Peer Gynt.