Some popular travel books on Amazon (book store - world`s biggest selection):
| | |
| --- | --- |
| Travel guide books | Booking |
| The Travel Book by Roz Hopkins (Editor) | |
| 1,000 Places to See Before You Die by Patricia Schultz | |
| Rick Steves' Italy 2005 by Rick Steves | |
| AAA Europe Travel Book 5th Edition : The Guide to Premier Destinations (AAA Travel Book) by AAA | |
| DK Eyewitness Travel Phrase Book: Italian (DK Eyewitness Travel Guide Phrase Books) | |
| Lonely Planet Europe on a Shoestring (Lonely Planet Europe on a Shoestring) by Vivek Wagle | |
Some books recommended by us in Travel Explorations:
| | |
| --- | --- |
| Travel guide books | Booking of books |
| The Last Paradise by Tom Cole | |
| Worst Journeys | |
| Congo Trek | |
| AAA | |
| BBBBB | |
Useful travel book guides
| | |
| --- | --- |
| Travel guide books | Booking of books |
| LonelyPlanet | |
| Rough Guide | |
| Insight Guide | |
| Time Out | |
| Footprint | |
For ordering all kind of travel books easily, click on the link here: Booking book - Amazon.

Stein Morten Lund, 11 March 2005
Information about new and useful Travel guide books
---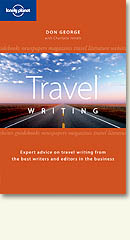 Travel Writing
1st Edition
Don George, et al
Complete Author List
Published March 2005
ISBN: 0864427425
272 pp
US$18.99 - AUS$25.95 - UK£10.99
Part of the series: Travel Reference
Make your passion your profession... pack a pen with your passport, craft prose that flows and become a Travel Writer. Written by established travel writers and bursting with invaluable advice, this inspiring and practical guide is a must for anyone who has ever yearned to turn their travels into saleable tales. Being a travel writer is a dream job - with this guide you're scribbling distance from the reality.
Discover:
The secrets of a great story
The best ways to research
What makes a winning pitch
How to get your name in print
Quirks of writing for newspapers, magazines, Web & books
Extensive writers' resources & industry organisations
Includes interviews with writers, editors and agents

Book here: Lonely Planet shop - for booking Travel Writing
---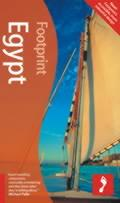 Discover so much more about Egypt with this updated guide from Footprint. Cherine Badawi has worked in Cairo and Sinai for many years and using her in-depth knowledge and love of the country takes the visitor to all the "must-see's" and beyond. This guide offers evocative coverage of all the ancient sites with detailed site plans and knowledgeable coverage of the history and architecture. It also provides up-to-date travel facts available about a country where change is rapid.
Diving and snorkelling in the Red Sea plus resort information is also included, along with information on sailing the Nile from luxury ships to felucca cruises and renting a houseboat. Up-to-date and critical listings of hotels, restaurants, bars and coffee houses are provided plus suggested itineraries, trekking in Sinai and camel adventures in the Western desert. This handbook describes Egypt's many attractions and encourages travellers to explore not only Egypt itself but also the countries which border it. It includes details on hiring houseboats on the Nile, diving in the Red Sea, cruising the Nile on a luxury ship and trekking in the Sinai and Western Desert.
---
The Rainbow Nation. Playground of the fast and furious. The 'tablecloth' oozes over Table Mountain. Shoot (with a camera) the big five in Kruger. The best sights. Wine route, Garden Route, Brandy Route.
Surf the worlds' best right hander at J-Bay. Hike the serrated heights of the Drakensberg. Gamble in Sun City. Ride the 'Cape Doctor'.
Lie in beautiful soft sand beaches at Plettenberg Bay. Where to sleep, eat and drink. Raft down the Orange River. Abseil down Table Mountain, bungee jump off Bloukrans Bridge. Whale watch at Hermanus. Uninhibited hedonism of Cape Town...
This volume offers travellers a guide to South Africa. It provides background information on the country's history, geography and culture, and also covers accommodation, shopping and eating out.



---