Press Releases
Happy New Year 2013 to you all! The New Year`s celebrations in Moss, near Oslo, in Norway, rose to big heights. The firework painted the dark sky over Moss, with all kind of patterns, colours and sounds. It`s for making wishes in the sky for the new year.
---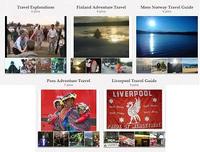 The first step in travel is to become inspired. By using the new innovating social media Pinterest, we in Travel Explorations visualise inspiring photos and give travellers quick insight in opportunities for unique adventures.
---
After we in Travel Explorations launched our Google+ page on 9th November 2011, it`s amazing to see how many who have joined us. Compared with the growing of members on our Facebook pages, the growth on our Google+ page has been huge. By focus on inspiring photos, articles and travel tales from adventurous journeys, we hope to drive more traffic and achieve more followers on our Facebook, Google+, Twitter and other social media pages.
---
Our Google+ Page was launched two days after Google announced their new service Google+ Pages worldwide for businesses on their Google blog. So far Google+ has focused on connecting people with other people. Now Google+ pages help businesses with connecting their customers and fans. Google`s slogan is "People + pages, better together". We in Travel Explorations have already started the process with attracting people with passion for travelling to our Google+ Page.
---
Our webconcept Travel Explorations is now strengthen with establishing sites on social medias like Facebook and Twitter. We in Travel Explorations wants to be where people are! Our goal is to achieve a closer and a more interactive dialog with genuine adventure travellers around the world.
---
On Travel Explorations online travel guide you can read press releases, features, download images or publications. You can also find contact details and subscribe to e-mail alerts. The following content is in our company press kit:

- Press Releases

- Frequently Asked Questions

- Company Fact Sheet
---
Top-Five Stories

Meeting the Mudmen
in Papua New Guinea



See the video HERE