Here we present reviews of the most exciting traditional music and dance.
---
I really wondered what kind of sickness she wanted to cure me for. Did I look so sick? In the middle of the dance I was told to lie down on the floor. The Indian woman moved straight above me. Suddenly she lifted up her skirt and almost sat down over my head. Then I got really problems with breathing and I nearly lost my breath. And I am sure many wondered: what did I actually see under her skirt?
---
---
---
Bedouins are still practicing their old musical traditions. In a big tent far out in the desert I had with a great time playing music and singing along with them. My choice for a song was "You'll Never Walk Alone". I got the honour to introduce this song. It was amazing for me to notice how emotionally touched the Bedoins become by this song. Actually all people get affected by this song, and it`s amazing to see how it reaches across all boundaries around the world.
---
In the show Beat For Beat on the Norwegian Broadcasting NRK 16th October 2010, the Norwegian tenor, Marius Roth Christensen song You'll Never Walk Alone. His fantastic performance really touched the viewers, also they who support other clubs than Liverpool F.C. View, hear and enjoy beautifully Marius` singing here!
---
This Video is part of Give Your Live - a music festival for human rights. It is part of the "Involve Yourself" human rights campaign. Show your support by giving your face.
---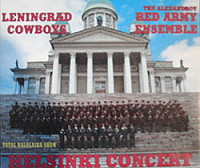 Finland marked the 70th anniversary of Winter War against Soviet Russia on the 30th November 2009! It woke up terrible memories, but it also give time to look forward. Music and culture exchange have often shown ways to build relations between nations, and that has also helped Finland and Russia. Probably the most amazing concert ever in the world was the Total Balalaika Show in Helsinki, Finland, in 1994.
---
All the rumours in the 1960s about that Paul McCartney had died, must be one of the greatest rock and roll conspiracies of all time! Since I heard the radio programme "Is Paul McCartney dead?" of Yoav Kutner in the late 70s, I have wondered about all the mysterious clues The Beatles plant in their music and inside their album covers. Why did the Beatles do that?
---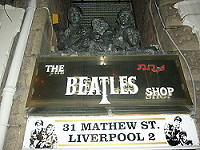 The Beat Goes On festival in Liverpool is inspired by city`s significant contribution to popular music. The festival is open at World Museum Liverpool from 12 July 2008 to 1 November 2009. The Beat Goes On showcases Merseysides vibrant music scenes that have played a major part in the citys life over the past 60 years. Especially one group will never be forgotten: The Beatles!
---
This year Salzburg city in Austria celebrate the 250 year`s Anniversity of its big son Mozart. The Mozart Year has already been started with festivities to honour the world famous composer and musican. You can almost feel Mozart's melodies in the narrow streets of the city. As the Tourismus Salzburg says: You won't need to look for Mozart in Salzburg this year - Mozart will find you! The special "Viva! Mozart" exhibition will give visitors an opportunity to glance behind the scenes of the legendary Mozart. The Whitsun Baroque Festival in June 2 - 5 this year - 2006. The Salzburg composer's birthday is moving the music-historical aspect: into the center of ancient Europe, into the middle of the 18th century. It started 250 years ago when Mozart was born in Salzburg. Today many big rock groups as the Radiohead, Waterboys, Roxy Music, Libertines, A-ha, U2, REM, Kent and Madrugada continue to develop the music, but for many people Mozart is still rock`n roll, and he will never be forgotten!
---
Christmas is party time. For many Norwegians, celebrating Christmas is real rock`n roll, and the biggest rocker of them all is Santa Claus. Santa is the world's best traveller, but he is also the world's best dancer. When he gets in party mood, as he is most of the time doing, he dances the Norwegian Støveldance - the Boot Dance. This amazing dance is so intensive that most people only dance it once in the evening, but Santa has to do it many times, and he is the King of Dancing. To dance the Støveldance, you have to many things at same time as stepping, jumping, running, swinging around, shouting, singing, and the hardest part: drinking! The most difficult thing is that you have to sing in a mix of Norwegian and English for almost second word. See the amazing dance being demonstrated here!
---
From Liverpool this beautiful song has spreaded around the world - even to the harsh deserts in Jordan. This song brings joy and happiness, and its joins people across nations, oceans, mountains and also deserts. I told the Bedouins about the fantastic football club Liverpool F.C. and the people from Liverpool. They stay together in good and bad times. Bedouins and people from Liverpool have very different lifestyle and culture, but one thing they have in common is unique hospitality and good guts.
---
The title of the video clip is: Arctic musical tales from Vajas - A great journey over the tundra and deep into the heart of the warm Sámi people!

Vajas succesful concert was on Friday 19 November 2004 at Divadlo U hasico on Rimska 45 in Prague. According to our earlier review, the concert was a powerful and beautiful journey through yoik, violin, chant and synthesiser. Together it reflects Vajas' courage and willingness to experiment, develop and transform indigenous music. See the video clip from their concert here!
---
The concert was a powerful and beautiful journey through yoik, violin, chant and synthesiser. Together it reflects Vajas' courage and willingness to experiment, develop and transform indigenous music. Me and my friends had the great privilege to experience Vajas on Friday 19 November 2004 in an evening concert at Divadlo U hasico on Rimska 45 in Prague.

For us it was just perfect for healing of our body and soul.
---