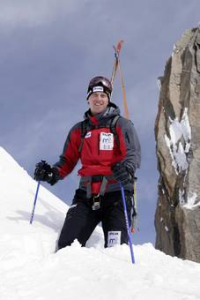 Photo.
Tomas climbs, on one of his expeditions, before skiing down from the top.
©
Tomas Olsson`s website.
Tomas` website reported earlier today that 2 Sherpas, Fredrik Schenholm, Olof Sundström and Martin Letzer went on a search for the climber yesterday morning.
According to ExplorersWeb`s website, Tomas is the 8th casualty in the Everest area this year. So far, the north side has claimed 4 climbers, and the south side 3 plus one on the Lhotse face. All deaths have involved sherpas or independent (unguided) climbers. Read more here on ExplorersWeb .
The accident took place in the Norton couloir, about two hours after the climbers summited the mountain on May 16: In a call from the top, they had reported a very hard climb up in a 14 hour push through a snow storm. "I hope we will be strong enough to ski down the north face," Tomas said.
In an interview on 18 May with Norwegian media, TV2 Nettavisen, Tormod Granheim told that Tomas fell when rappelling down a 150 feet rock cliff at around 8500 meters. The snow anchor broke off and Tomas is believed to have been knocked unconscious in the fall, continuing to slide down the wall. And so he vanished. Read more on TV2 Nettavisen - Interview with Tormod.
Photo. Tomas on the edge of an cliff.
© Tomas Olsson`s website.

Tomas has skied down many of the highest summits in the world. I lived in Chamonix, and spend his daily life with climbing and skiing.

Tomas wrote on his website during the planning of the Everest Expedition 2006: I am an adventurer on full time and my goal is to be the first in the world to ski down the northern side of Everest, the world`s highest mountain.
We in Travel Explorations express our deepest sympathy to Tomas` family, relatives and friends. Tomas was a really great adventurerer who lived his life to the max! He was always looking for new challenges and pushing of limits.
Stein Morten Lund, 21 May 2006
Additional information
The Norwegian website TV2 Nettavisen: www.Nettavisen.no
ExplorersWeb: www.ExplorersWeb.com