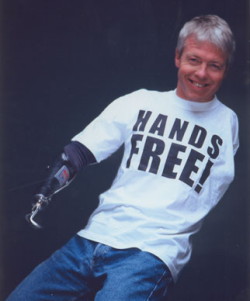 Photo.
Cato Zahl Pedersen. The man who never stopped dreaming about big adventures.
© Cato Zahl Pedersen - from website
www.catozahl.no
.
We all succeeded well on the approach to the summit, writes the team on their website (www.catozahl.no) after they reached the top on 1 October this year (2005).
Their aim is to work for a good relation and for reaching the top. With good help from the other members in the team, Cato Zahl Pedersen will focus on his opportunities rather than the limitations, and also the coordination in the team to be able to make it (www.catozahl.no). And they did!
Cato is now 46 years. When he was 12 years old, he was exposed for a serious accident. A high voltage accident took away him of both his arms, but he never gave up and have achieved more than most people have in their life. In 1994, Cato skied to the South Pole, together with Odd Harald Hauge and Lars Ebbesen. These Norwegian men went all the way unsupported from Berkner Island.
Cato has also been trekking in Himalaya before up to 6000 metres and he has climbed on rope whole the way to the top on the Norwegian mountain Romsdalshorn. This mountain is located in Romsdal and its 1550 metres high. It`s a classic in climbing in Norway!
In the period 1980 - 94, he achieved 13 gold medals and 1 silver medal in Paralympics in athletics, cross-country skiing and down hill skiing (alpine skiing).
The sixth highest peak on Earth, Cho Oyu, 8201m, stands at the head of the Khumbu Himal, 28 km, west of Everest. The normal route goes up the north side of the mountain, which is reached through Tibet. See also the news article about the expedition on Xexplorersweb: Xexplorersweb - Cato Zahl Pedersen.
Stein Morten Lund, 3 October 2005
Additional information
Read more about Cho Oyu on our website Travel Explorations (www.TravelExplorations.com).
Read more about climbing expeditions on www.explorersweb.com.
Informasjon på norsk:
Cho Oyu på 8.201 meter er verdens sjette høyeste fjell og en av verdens 14 topper over 8.000 meter.
Cato Zahl Pedersen (46):
Gift og datter på 17. Bosatt på Nesodden. I perioden 1980-94 oppnådde han 13 gull medaljer og 1 sølv medalje i Paralympics i friidrett, langrenn and alpint. I 1994 gikk han til Sydpolen. Senere har naturen lokket. Foran en trekkingtur i Himalaya 2004 (opp til 6.000 moh), utprøvde han klatring med tau. Det medførte at han klarte Romsdalshorn. Det har gitt mersmak. Så derfor ville han prøve seg på Cho Oyu… (referert fra websiden hans www.catozahl.no).