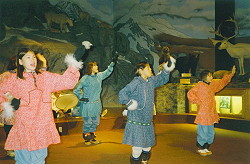 Photo.
Inuits (Eskimos) dancing in Kotzebue, Alaska, USA. © Travel Explorations. This photo was taken on my tour in Alaska in 1997. Kotzebue is a city located in Northwest Arctic Borough, Alaska. The population of the city is over 3000 inhabitants. The Inuits (Inupiat people) here still hunt and fish, including whaling, for subsistence. They have lived in Kotzebue since at least the 1400s.
It`s the fact that the Eskimo languages have more than one word to describe snow, but according to the anthropologic Laura Martin, it`s not so many as believed from the myth. It has been all assumed that Eskimos, or Inuits, has so many as 400 words for snow.
Based on Martin`s research, she has summarized her findings in the book by Geoffrey K. Pullum: The Great Eskimo Vocabulary Hoax and Other Irreverent Essays on the Study of Language (1991), University of Chicago Press. ISBN 0226685349. Professor Geoffrey K. Pullum was born in 1945 in Irvine, Scotland. He is a linguist, specialising in the study of English. His website is: Pullum`s website.
First of all, it is necessary to mention that there is no one Eskimo language. A number of cultures are referred to as Eskimo, and a number of different languages are termed Eskimo-Aleut languages.
There are two major errors in this myth that Eskimos have several hundred words for snow. The first is that Eskimo speakers have more words for snow than English speakers do.
In fact, they have about the same number, perhaps a little more and perhaps a little less depending on which Eskimo language one is focusing on. And as in English, these words are related to each other.
Photo. Stein Morten and a nice Inuit (Eskimo) girl in Kotzebue, Alaska, USA.
© Travel Explorations. This photo was taken on my tour in Alaska in 1997.

Alaska is for genuine adventurers who like to get a feeling of the pioneer's will, and the Inuits` and Indians' spirit.
Blizzards and flurries are two different types of snow, but they are snow nonetheless, and the researchers recognize that speakers of Eskimo languages categorize snow in the same way.
The second error comes from a misconception of what should be considered "words". When it comes to describing snow in Eskimo languages, the words are limitless. And as in other polysynthetic languages, this rule is the same regardless of whether they are describing snow, cheese, trees, cars, or anything at all. This is because their language is structured differently than English.
Because Eskimo is polysynthetic, it describes things in words of unlimited length. One might as easily say that speakers of the Bantu languages, located in Africa, have hundreds of words for snow too.
Stein Morten Lund, 2 January 2005
Additional information
Inuit is a general term for a group of culturally similar indigenous peoples inhabiting the Arctic coasts of Siberia, Alaska, the Northwest Territories, Nunavut, Québec, Labrador and Greenland.
"Alaska" means "great land" or "mainland" and originated from the people of the Aleutian Islands. Alaska, the 49th and largest state in the Union (almost one-fifth the size of the lower 48), was granted statehood on 3 January in 1959 by President Dwight D. Eisenhower. The United States purchased the land from Russia on 18 October in 1867.