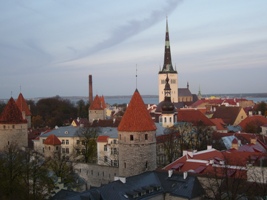 Photo. Admiring the view from Patkuli viewpoint where I could observe the port of Tallinn and the tower of the St. Olav Church.
Tallinn is the capital in Estonia, a Northern European country situated on the eastern shore of the Baltic Sea, which is the smallest of the Baltic countries. The country is known for magnificent castles, pristine islands and medieval splendour. It`s also cosmopolitan. As LoneIy Planet writes on its website (www.lonelyplanet.com): It's no wonder Estonia is no longer Europe's best-kept secret. Tallinn's population is among 400 000 (June 2008).
Tallinn's history dates back over 5,000 years when it was first settled by ancient indigenous people. The city is renowned for its well-preserved medieval Old Town, which is a UNESCO World Heritage site. It features cobbled streets, historic buildings, and charming architecture that takes visitors back in time. The city's history is rich and diverse, with influences from various cultures, including Danish, Swedish, German, and Russian. This is reflected in the city's architecture, traditions, and culture.
Through centuries in one day like a time machine
In Tallinn I really got wanderlust. Despite heavy rain, fog and cold wind in late October 2008 I become highly inspired to look around in the beautiful old town. It`s was like a big museum. Some parts of the town are from the 1100 century. I spendt the day walking high and low, taking step by step on historical ground, through narrow cobbled streets, admiring spectacular buildings and ruins, and meeting people dressed up like they did in the old days.
I was guided around in the centre of the Old Town, across Toompea Hill, observing the Parliament Building and Aleksander Nevsky Cathedral, visiting the Dome Church and admired the scenic viewpoint. So I went to the narrow, winding streets of the Lower Town, and finally ended up on Town Hall Square. On the top of the church I could observe St. Thomas.
The Old Town is surrounded by a medieval city wall which is still preserved over a length of 2 kilometers. There are some great viewpoints in the Old Town. From Patkuli viewpoint I enjoyed the magnificient view over the old town of Tallinn, the Baltic Sea and the harbour. Also the Kohtuotsa viewing platform is known for providing a fantastic view.
Tallinn's history is literary written in the walls and buildings. It has gone through blood, sweat, tears, rain and sun! As a city Tallinn has been reborn many times. The city has through centuries been partly destroyed, rebuilt and developed to be one of the world`s most beautiful cities.
Fortunately its strong structures have protected Tallinn from being destroyed in wars, and its lack of wooden buildings has protected it from burning down. Tallinn become heavily bombed by Soviet air forces during the latter stages of World War II, but even thought it couldn't prevent the Estonian people from preserving the medieval Old Town unique structures and charm. Well deserved in my opinion, the Tallinn Old Town (including Toompea) become a UNESCO World Cultural Heritage site in 1997.
The church is one of many historical landmarks in Tallinn. It was named after the Norwegian king Olav II Haraldsson, canonised as a saint. St. Olav was considered to be the protector of seafarers.
Around 1500, the building reached a height of 159 meters, and became the world's tallest building of the time. The purpose was to use it as a maritime signpost, which made the trading city of Tallinn visible from far out at sea. After several fires and following rebuilding, its overall height is now 123 m.
Outside the medieval quarters, there are lots to see. Here you can dive into the past at Peter the Great's Kadriorg Palace, a baroque masterpiece surrounded by idyllic woodlands.
After the guiding tour it was time for relaxing and partying. Well protected behind the big stone walls I could enjoy life in boutiques, restaurants, cafés, and nightclubs. Tallinn's bars and pubs are normally open until at least midnight on weeknights, a couple hours later on Friday and Saturday nights. The more popular Old Town pubs will stay open until the last client leaves. A pint of local brew - Saku Originaal and A. le Coq Premium are the two local favourites - usually costs between 30 and 45 kroon, equivalent to 2 - 3 EUR. Many people from Finland, Soumi, spend their weekends in Tallin, and they like to party.
Tallinn's medieval past and its long grey days under the Soviet period it`s not forgotten, but hopefully Tallinn will stay most in the sun in the future.
Stein Morten Lund, 27 October 2008
Additional information
St. Olaf's Church or St. Olav's Church (Estonian: Oleviste kirik) in Tallinn, Estonia, is believed to have been built in the 12th century and to have been the centre for old Tallinn's Scandinavian community before Denmark conquered Tallinn in 1219. Its dedication relates to King Olaf II of Norway (also known as Saint Olaf, 995–1030). The first known written records referring to the church date back to 1267, and it was extensively rebuilt during the 14th Century (source: Wikipedia).

Some facts about Tallinn:
Geographical location:
Tallinn, the capital of Estonia, is located in Northern Europe in the north-eastern part of the Baltic Sea region. Tallinn is also the biggest city in Estonia and it is just about the size of the capital Helsinki in Finland.

Area:
Tallin: 159,2 km²
Estonia: 45 227 km²

Climate:
Tallinn's climate is characterized by a fairly cold winter, a cool spring with little precipitation, a moderately warm summer and a long and rainy autumn. However, some summers have weeks temperatures around +30° C, and a warm, sunny Indian summer can keep autumn at bay until mid-October.
Average temperature in July +19°C
Average temperature in February -6,7°C

Population:
402 798 in Tallinn (01.06.2008)
Religions:
The largest denomination is Lutheran (30%), Orthodox (28%), Catholics (3%). Nevertheless, only about 20% of Estonians practice any religion.

Literacy:
99% of total population (Human Development Report)

Nationality:
Estonians 54.9%, Russians 36.5%, Ukrainians 3.6%, Byelorussians 21.9%, Other nationalities 3.1% (Latvians, Lithuanians, Finns, Jews, Germans, Tatars, Poles).

Languages:
Estonia's official language is Estonian. Russian, Finnish, English and German are also understood and spoken.