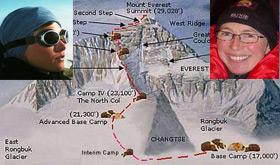 Referred from Randi Skaug`s website (www.skaug.cc/everest2004 ): "By satellite telephone today (May 21th) at 1:50 PM Randi Skaug (44) could tell the world that she had reached the top at 11AM on May 20th. She is now resting at North Col (7100 m). She was very tired and very happy ".
Photo. Image of route courtesy of Randi Skaug: photo of Cecilie (left) courtesy of Cecilie Skog (image from Xexplorersweb - www.explorersweb.com).
These two Norwegian females are climbing Everest now a days joining different teams Both ladies are climbing the North side.
This is a milestone in Norway`s history of climbing. Randi reached the top together with two sherpas. The tree of them spent the night at 8300 meter before they went for the top the next morning. The two other expedition members, Truls Evensen from Norway and Paul Firth from South Africa, are planning to reach the top Sunday 23 May.
Some females from other countries have reached the Everest top earlier. I received an e-mail from a great climber and adventurer for few weeks ago. I asked him about the Norwegian females chances to reach the Everest top, and he replied: "Yes, they can make it to the top. I have been on many expeditions and many times women out perform men because they use their heads more and don't compete in silly ways. They tend to be more patient as well. So I think they has a good chance".
10 Norwegians have succeeded in reaching the summit of Mt. Everest and they are all men. There are two Norwegian women attempting Everest this year, if they reach the summit they will be the first Norwegian women ever to do so.
Randi is one of two Norwegian females who are trying to reach the Everest top. Randi, 44, is part of the Norwegian American North Everest Expedition; a team of four Norwegians and two sherpas. The NANEE plan was to plant the Norwegian flag on the top of Everest on the Norwegian national day on the 17th May.
Cecilie, 29, left on the 29th of March and hope to reach the summit by the middle of May. She has climbed Blanc, Aconcagua, Denali, Elbrus, Kili, and Cho Oyu, among others. She is a nurse from Alesund, Norway. Recent report from her represent in Norway whom we in Travel Explorations has been contact with, says she is in top shape, and that she will make an attempt to the top in the coming days.
We cross our fingers!!!
Stein Morten Lund, 22 May 2004
Additional information
In 1996 the Norwegian, Liv Arnesen, also the first woman to reach the South Pole solo and unsupported, made an attempt on Everest, but was stopped short of the peak.
In 1953, Sir Edmund Hillary & Tenzing Norgay made history as the first people to reach the top of Everest.