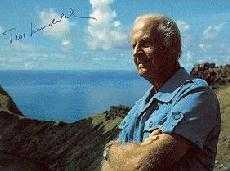 Photo. Cover from the book he wrote self about his incredible life.
The Norwegions were incredible proud of Thor Heyerdahl. He died in his home near the town of Alassio on the Italian Riviera. His wife Jacqueline and several of his children had been at his side since he fell ill during the Easter holidays three weeks ago (according to the Norwegian national newspaper Aftenposten).
Heyerdahl was always going strong, and remained active until just last year, even though he was diagnosed with cancer. He underwent surgery last summer but a brain tumor spread and the famous adventurer and explorer lapsed into a coma earlier this week.
Heyerdahl was just 23 years old when he and his first wife, Liv Coucheron Torp, first set off for Polynesia. The couple had gone to school together in Larvik, a coastal town south of Oslo, and they spent a year in the then-remote Marquesas, studying the native population and its origins.
This first expedition resulted in several books, including "Fatu-Hiva" and "Green was the Earth on the Seventh Day." It also spurred a string of later expeditions that brought Heyerdahl to international attention.
In 1947, Heyerdahl set off from Peru in a balsam boat he called "Kon-Tiki." His aim was to prove that Polynesians emigrated initially from South America, not Southeast Asia as previously thought. He succeeded, landing later in the Tuamotu Islands.
That set off publication, with the help of his wife Liv, of his international best-seller, "Kon-Tiki," and the opening of the Kon-Tiki Museum in Oslo in 1949, which remains a popular visitor attraction.
More books and expeditions followed, including his first to Easter Island in 1955 with second wife Yvonne and family.
In 1969, at the age of 55, Heyerdahl wanted to prove that South American populations orginated through immigrants from the African continent. He oversaw construction of another raft, the "Ra," and set off from Morocco.
Heyerdahl and his crew had to abandon the "Ra" in the eastern Caribbean but a second raft, "Ra II," made the trip successfully in 1970 and proved it was possible for ancient cultures to sail on currents over the Atlantic.
In 1977 he made yet another raft expedition, this one from the Persian Gulf on board the "Tigris." He stayed active until just last year, launching archaeological projects from Tenerife to the Black Sea. He was decorated by the late King Olav V, first in 1970 and again in 1987.
During his life Heyerdahl risked his life many times. As the cat he had more than 9 life. He took the biggest challenges, but this time he didn`t survive the sickness. He will never be forgotten. Not of the Norwegians, not of other people in the whole world.
Stein Morten Lund, 19 April 2002
Additional information Read more about Thor Heyerdal on our website.
It is also well worth to read his incredible books. Films from his fantastic expeditions are also available.