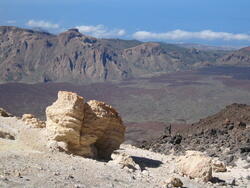 Teide National Park rock landscape
Photo. Mount Teide National Park
Mount Teide National Park, located on the Spanish island of Tenerife in the Canary Islands. Its dominated by the impressing Mount Teide. As soon I took my my way into the park, I feeled like beeing on a journey through a moon-like landscape. 
All over I could observe fascinating diverse rock formations. These formations have been shaped by volcanic activity and erosion over millions of years.
Later I took the Teide Cable Car to get a quick overview of the moon-like landscape and reach higher altitudes, It takes you up to around 3,555 meters (11,663 feet), offering breathtaking views of the volcanic landscape. 
The natural beauty of landscape here is special. Exploring Mount Teide National Park's moon-like landscape was an unique and surreal experience that leaved me with unforgettable memories. 
Stein Morten Lund, 2008 
Additional information
Read also my article Guimar, Tenerife, Spain - The lost pyramids in Europe! 
Six rectangular pyramid-shaped, terraced structures built from lava stone. Stand as high as 12 metres.