Moss
Moss Norway Travel Guide. The Moss region in Norway is for genuine adventurers. It has a beautiful countryside, the ydillic peninsula of Jeløya, wooden hills and dense pristine forests. Moss offers an abundance of trails and paths, but most exciting is venture out on the off beaten tracks. Discover the Viking heritage and other historical sites.
Moss, Norway - By night at the dockside Tollboden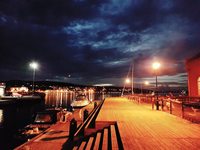 Had a good time at the Moss dockside Tollboden in the late evening: boat- and party life (Friday 19th August 2016). Enjoyed rock`n roll, piano music and dancing. Got a nice view towards Mossesundet, the strait of Moss.
Top-Five Stories

Meeting the Mudmen
in Papua New Guinea



See the video HERE