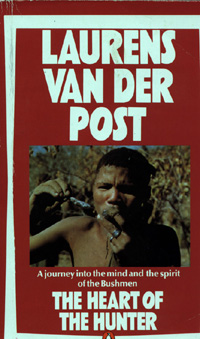 Laurens Van der Post (1906-1996) was born on December 13, 1906 in Philippolis, the country at the time was the Union of South Africa. Sir Laurens Van der Post was an author, explorer, anthropologist, linguist and philosopher.
Van der Post was an opponent to apartheid. In 1925, he helped to start Voorslag, an anti-apartheid magazine. He was forced to leave South Africa because of his involvement with this magazine. He also wrote for the Natal Advertiser in Durban, of which he was the first Afrikaner journalist.
Van der Post published his first book in 1934. In a Province was the first book written by a South African against racial prejudice. "He maintained that whites who oppressed and feared darker peoples were reflecting the expression of something inside themselves: the instinctive, emotional, dark unconscious"(Anthropology News).
Van der Post was a prisoner in a Japanese war camp during World War II. This experience had a heavy effect on him. His books, The Seed and the Sower (1963), The Night of the New Moon (1970), and Portrait of Japan (1968) are based on his experiences as a prisoner. Van der Post also supported the dropping of the nuclear bomb due to his experiences, yet he would not participate in the war crimes trial in the Far East.
During the 1950's, he explored and wrote about Africa. The Lost World of the Kalahari, published in 1958, and The Heart of the Hunter published in 1961, are about the desert Bushmen and are credited with saving them from extinction.
Other books about the people of the Kalahari desert are A Mantis Carol published in 1975, and Testament to the Bushman (with Jane Taylor) published in 1984.
He was awarded the CBE in 1947, and received his knighthood in 1981.
Van der Post's books are a unique contribution to understand the Bushmen's life and culture. You can't stop reading before you are finished, and then you never will forget it. There is something in these books that gives a deep reflections about an impressing group of human beings, the Bushmen of the Kalahari Desert.
Van der Post is absolute one of the greatest explorers who ever has lived, and his explorations should never be forgotten. He is deeply missed!
Stein Morten Lund, 11 August 2000
Additional information
Read reviews about some of Van der Post`s books on our website (Click here)