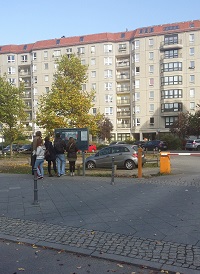 The Battle of Berlin ended the Second World War the 8th May 1945. The most important thing was that it finally become peace, but neither the Russians or the allied could lift the biggest trophy of it all: Der Furer Adolf Hitler - dead or alive! No other persons have ever caused such mass hysteria around the world and so many conspiracy theories than Hitler.
---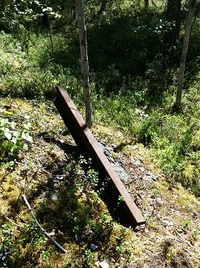 The large prisoner of war camp here in village Metsäkylä, Metsakyla, near the town Taivalkoski, was called Korvua Camp and the route for the railway was called the Korvua Route. This was a concentration of camp areas for personnel from where prisoner workers and other men were transported as needed to other camps along the trench railway.
---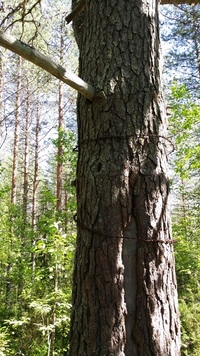 In the small store Metsäkylän Kyllkäkup in the village Metsäkylä, Metsakyla, near the town Taivalkoski, in the northern Finland, I got in contact with a local person. We started to talk about the ongoing World Championship in football in Brazil (July 2014), but after a while our conversation switched over to a even more serious subject: Finnish war history. Eagerly he startet to tell me about dramatic events during the Second World War deep in the forest just outside his home. He said: this was the part of the history few Finnish know about or wantet to forget. What happened here in the middle of nowhere?
---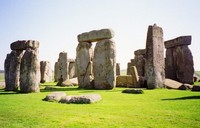 Many discoveries have been done in the recent years. Some of them are that Stonehenge may have served as a giant musical instrument, been a burial site for the Stone Age elite, build on solstice axis, finds of tools marks made for 4500 years ago and 1,000 years old graffiti.
---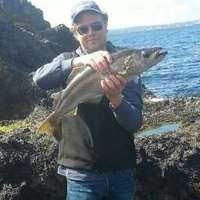 Also this year this local fisherman (see the photo) won the traditional sport fishing competition on Saturday 10th May 2014. He was standing on the small island Gullholmen just outside the peninsula Jeløya, Moss in Norway, using a pole and with fly on the hook. It didn`t take long time before he could drag ashore a 3.8 kilo polock fish (sei, lyr).
---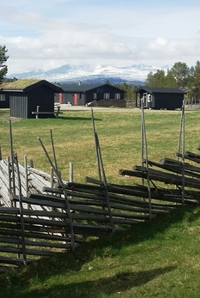 Admiring the Rondane Mountain Range, observed from Rondaplassen at Kvamsfjellet mountain on Saturday afternoon 24th May 2014. I never get tired looking at this majestic mountain range. Set in a spectacular scenery, the ten peaks above are 2,000 metres with the highest being Rondslottet at an altitude of 2,178 metres above sea level.
---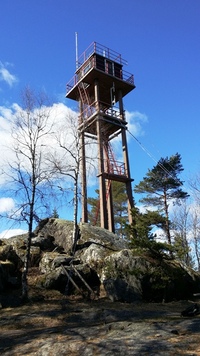 A hiking tour up to the fire tower on Linnekleppen near Rakkestad. Located at the one of the highest peaks in the county Østfold (325 metres above sea level). It overlooks the whole county, parts of neighbouring counties and parts of Sweden.
---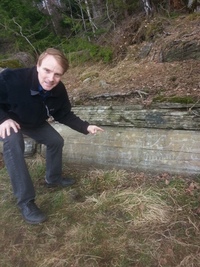 Storytelling from past. The art of storytelling is different from now, but it was fascinating observing these nearly 3000 years carvings: a cultural heritage in its full pride. It`s bear witness to human activity in Southern Norway already in prehistoric time - the Bronze Age. These carvings are unique because they are the only registered carvings in the region of Moss.
---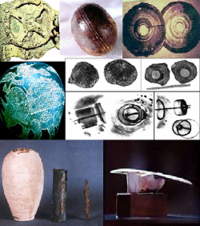 Over the last few hundred years, many perplexing artifacts have been unearthed that do not fit the currently accepted theories of geology and the history of man. Some of them are: Piri Reis Map (1513), Shroud of Turin, Aztec Calendar, Antikythera Device, Celtic Cross, Mystery Skulls, Ancient Airplanes Fuente Magna Phaistos Disk Catalan Atlas, Baghdad Battery Stone, Spheres, Voynich Manuscript, Delhi Iron Pillar, Dendera Lamps, Djed, Flower of Life, Catalan Atlas, Delhi Iron Pillar, Djed, Georgia Guidestones, Talismans.
---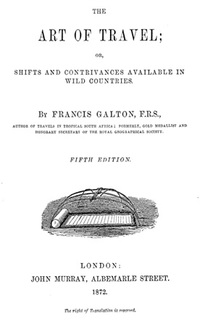 For more than 100 years before Lonely Planet`s popular travel guides, the British adventurer Francis Galton wrote the world`s first travel guide for adventurers. The title was "The art of Travel - Shifts and Contrivances Available in Wild Countries" and contains plenty of practical advice. In this book you can get a greater insight into the life of a Victorian explorer.
---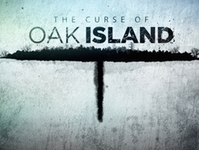 Rumours leaked today about that the brothers Rick and Marty Lagina made one of the biggest discoveries in the 200-year old search for treasure on Oak Island. The Curse of Oak Island is a reality television series. The premiere date is 9th February 2014 on History.com. What have the brothers found?
---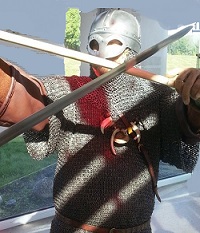 Archaeologists in Estonia have done a sensational discovery: a mass grave comprising two Viking ship burials. The history about the Viking has to be rewritten. The Salme ships are two pre-Viking era clinker-built ships that were discovered in 2008 near Salme village in Saaremaa, Estonia. Both ships were used for ship burial around AD 750 and contained the remains of more than 40 warriors killed in battle, as well as numerous weapons and other artifacts.
---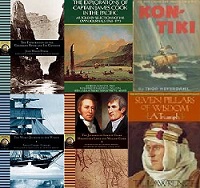 In May 2004 National Geographic`s Adventure Magazine published a list of the 100 greatest adventure books of all time. They are what the magazine call "Extreme Classics". These books are still inspiring for modern explorers.
---
---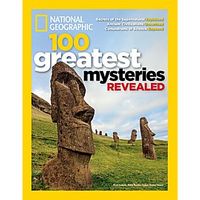 In National Geographic`s 100 Greatest Mysteries Revealed Special Issue the magazine covers secrets of the supernatural, ancient civilizations and conundrums of science. Who made Stonehenge and how? What lies beneath the lost city of Petra? What brought an end to Mayan civilization? How did Utah's celebrated arches form? Are these mysteries from ancient time really complety revealed now? And what about other mysteries not mentioned in this magazine?
---