Experience the heartbeating city of Liverpool. With its top football, rocking Merseyside music, joyful Irish pubs and wonderful people, the city will always be a part of travellers heart and soul.
---
---
---
---
---
---
---
---
"Bill Shankly – He Made the People Happy" are the inscribed words on the statue are the words "Bill Shankly – He Made the People Happy". The statue was erected in 1997 outside The Kop to honour the legendary Liverpool manager Bill Shankly.
---
---
It`s 30 years since the former Liverpool manager Bill Shankly died, also populary called Shanks. His thoughts and bright comments are still living, especially about Liverpool`s great supporters.
---
---
---
The movie covers the Beatle John Lennon's first years. He is Liverpool`s big son. The story is about Lennon`s adolescence and relationship with his stern aunt Mimi, who raised him, and his absentee mother Julia, who re-entered his life at a crucial moment in his young life.
---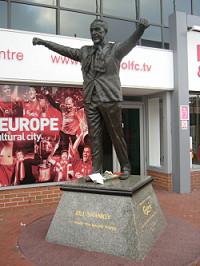 Quotes from important persons in Liverpool Football Club inspires. They tell everything about the spirit in the city and are the powerful words that really create magic. Inhabitants in Liverpool are devoted completely to football, but it`s even more than that: it`s a way of life, a religion and a burning passion.
---