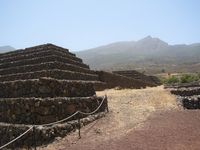 Photo. The Guimar Pyramids, also called the Black Pyramids of Tenerife. There is no doubt: these stone structures are pyramids. © Travel Explorations.
This secret has been kept for a long time, but after the Norwegian adventurer Thor Heyerdahl started explorations of the mysterious stone structures in 1991, the interest about them has spreaden far outside Europe. As far I can see these constructions are the most convincing indications of human migrations in ancient times.
Tenerife is for most people associated with hot sun and a enjoyable beachlife. The island covers over 350 kilometres of coastline, with many beautyful beaches of golden and volcanic sand. For they who explore the island more thouroughly will understand that there are some amazing historical wonders and mysteries there too.
In July 2008 I took a break from the beachlife in Tenerife. Eagerly I followed my countryman Thor Heyerdal`s footprints to the Ethnographic Park Pirámides de Güímar and the mysterious pyramids. Here I could explore a step pyramid complex, believed to be oriented astronomically to the summer and winter solstices.
Thor Heyerdahl became interested in the site after reading an article in a newspaper in 1990. Six step pyramids were discovered in 1998 near Guimar, a little town on the eastern shore of Tenerife Island, at the Canary Islands. More precicely it`s located up in a montainside between Santa Cruiz and Los Christianos.
So why took it so long for before the pyramids started to be explored? Before the excavation of the pyramids, they looked like agricultural stone terraces such as are common throughout the Canaries, so the locals didn`t think that the site had any historic value.
Photo. Locals thought the stone structures were just piles of stones or farmers' terracing on the slopes of the mountains.
The site was bigger than I expected. Its covers 60.000 square metres. It was beautiful with gardens, teracess, plants and flowers. The site has received an investment of more than six million Euros for preservations.
In the steaking sun I walked around the site two times observing the pyramids from different angels. They were built of blocks, gravel and soil. The mountains in the background created a wonderful background scene for the pyramids. There were six stepped pyramids at the site, lot of terraces and a recently discovered cave under one of the pyramids.
The six step pyramids are still a mystery to archaeologists. They have a rectangular ground plan reaching a maximum height of about 12 metres. According to some researchers, these pyramids have a noticeable similarity to the pyramids built by the Maya and Aztecs in Mexico. They are rubble-filled with facings of black volcanic stone and have been constructed through several periods.
The Black Pyramids of Tenerife are one of the island's many mysteries and resemble similar structures in both Mexico and Peru, with six angular stone steps. Here I got a real insight into the ancient civilications that once inhabited the area. The Pyramids of Guimar are a series of six rectangular pyramid-like structures made of lava stone, which have generated intrigue and controversy regarding their origins. Some theories suggest they may be ancient indigenous structures, while others believe they have a more recent agricultural purpose.
These structures have been dated to the 19th century AD and they may originally have been a side effect of contemporary agricultural techniques. The pyramids stand as high as 12 metres (39 ft). Other pyramids employing the same methods and materials of construction can be found in various sites on Tenerife. In Güímar itself there were nine pyramids, but as mentioned, only six of them are intact (source: Pyramids Guimar on Wikiepdia).
Between 1991 and 1998 with the agreement of Thor Heyerdahl multiple excavations of the site by archaeologists of the University of La Laguna (Departamento de Prehistoria, Antropología e Historia Antigua) took place.
Heyerdahl received financial support from his friend, the Canarian businessman Fred Olsen, who owns the largest transport company in the Canaries and whose family came to the islands from Norway in the 1900s. Based on Thor Heyerdahl research, he believed it was a transatlantic link between Egypt, Central America and Tenerife. His finds indicated possible parallels between the Canarian terrace structures and pyramid structures in Egypt and Central America.
Thor Heyerdahl believed that at one time the pyramid-building peoples of the world travelled the seas on rafts and he himself sailed from Morocco to Barbados on a papyrus raft known as Ra II to show this sort of thing could be done. At the site there is possible to observe a copy of this raft. There are also displayed small copies of his other rafts.
Heyerdahl`s hypothese was that the Canarian pyramids formed a temporal and geographic as a stopping point on voyages between ancient Egypt and the Maya civilization. During his explorations, he continued to maintain a belief "in a possible relationship between the existence of the pyramids and the pre Hispanic civilisation on Tenerife". Another unexplained mystery lies on the west side in the north of Tenerife, where similar impressive pyramids could be seen in the farmland of La Suerte in the villages of San Marcos, Santa Bárbara, La Mancha and at Santo Domingo.
I also took my time in the information centre where I got more information about Heyerdahl's research journeys and his ideas about the pyramids. The objects found in the Guanche cave are shown in the "museum" in heavily enlarged photos, whilst the imported ceramics from the 19th century are mentioned only briefly on an information board.
There are controversy among historians, archaeologists, astronomers, and those with a general interest in history about Thor Heyerdahl`s theories, but the interest for these amazing pyramids live stronger than ever. The reason for their construction and its socio-cultural background is still waiting to be completely explained.
Stein Morten Lund, 12 July 2008
Additional information
For more information about the pyramids in Tenerife, see photos and films on the website of the Pyramids of Guimar.
The Foundation for Exploration And Research on Cultural Origins (F.E.R.C.O.) was founded in 1992. Its central office is based in the museum Casa Chacona - Pirámides de Güímar - Tenerife. Its main goal is to organize excavations and investigations in the Canary Islands, as well as other parts of the world that may throw light on the origins of pre-European settlements and on oceanic voyages in pre-European types of watercraft. The scientific activities of FERCO are co-ordinated by a Scientific Committee which consists of international archaeologists and scientists, together with Founding President Dr. Thor Heyerdahl. For more information about the organisation and its works, see FERCO's web page.
Read an interesting article about the Guimar pyramids on Thothweb (www.thothweb.com):
http://www.thothweb.com/article-2122--0-0.html
Red mor
https://en.wikipedia.org/wiki/Pyramids_of_G%C3%BC%C3%ADmar
Ethnographic Park Pirámides de Güímar: This museum and park is dedicated to the study and exhibition of the Pyramids of Guimar. It offers insights into the history and mystery of these structures. Malpaís de Güímar is a unique and protected natural area that features volcanic landscapes and walking trails for visitors to explore.
Read more about mysteries and ancient wonders on our global travel guide www.TravelExplorations.com