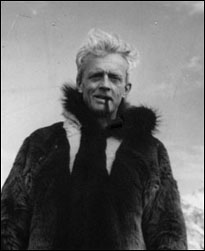 Photo: Helge Ingstad - one of Norway`s many great explorers.
His exploration of the Viking settlement in Newfoundland, Canada, is placed on the UNESCO World Heritage list. Here are some the adventure highlights - Lived as a fur hunter in the arctic Canada in 1926-30 - In 1936-38 he studied the Apache Indians in US and Mexico - In 1949-50 he visited the Nunamiut-inuits in Brook Range in Alaska - In 1954 he studied ancient settlements on West-Greenland - In 1960-68 did he and his wife travel around the North East coast of Canada (Newfoundland). Their research work confirmed the saga about the Vikings journeys to America long before Columbus.
This is probably the greatest exploration seen with Norwegian eyes. It has an enormous importance for the Norwegians identity and national feelings. This proved that Leiv Eriksson and his men from Norway were the first European who discovered America - also 500 years before Columbus arrived. This lead to that whole the Americas history had to be rewritten. It also changed the world`s history.
He books has been translated in to almost all European languages and sold all over the world. He become honoured with the St. Olavs Orden, and other prices for his archaeological work and adventure travelling. He also got the Royal Geographical Society gold medal.
What he accomplished in his life is really impressing! There is no doubt: his memory will live forever!
Stein Morten Lund, 29 March 2001
Additional information
Read more about great explorers on our site