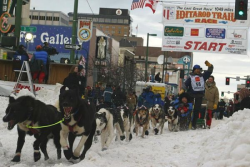 Photo.
On the start point - Robert Sorlie (Sørlie) from Norway leaves Anchorage. © Photo Copyright: Team Norway (Hurdal):
www.hurdal.com
.
The Last Great Race is the official name. It goes whole the way from the Alaskan capital Anchorage to Nome. On this 1,000-mile sled dog race the racers will encounter several kinds of great challenges: rough landscape, wild animals like bears and wolves, remote ghost town and extreme climate.
Freezing temperatures and the sound from barking dogs are the part of the game. The famous race has become an important part of some people's life and it's also way to keep the history behind it alive.
According to the website Hurdal.com (Christian Engelschiøn), Robert has been racing dogs for more than 35 years. In the beginning he used Siberian Huskies. For preparation to the Iditarod 2005 he had about 25 Alaskan Huskies in training.
Robert is a well-known musher in Norway and he has won both the Finnmarksløpet 1000 km and the Femundløpet 500 km numerous times. So far everything has gone well on the current race on the first part of the distance, and his is in a leading position. Will he win again?
Keep up your positive thinking Robert and stay on the track!
Stein Morten Lund, 12 March 2005
Additional information
Here you will find updated news from Alaska on the two Norwegian, Robert and Bjørnar, during the Iditarod race: Team Norway (Hurdal): www.hurdal.com .
Some other information sources: