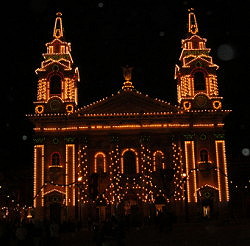 Photo. St. John`s Cathedral observed in the late evening.

The Maltese Islands are a strongly Catholic country with all the festivities - spiritual, serious and fun - which make up the religious year. Feast days are very much the life of the Islands. Some holy days are national holidays, such as the feast of Santa Marija in the the middle of August. Others, such as the harvest festival or L'Imnarja at the end of June, are steeped in folklore.
The most well known of all are the village festas in honour of the parish patron saint.
Valletta, population 7048 (official estimate for 2000), is the capital city of Malta.The facade of St John's Co Cathedral is more like a fort.
St. Johns Co-Cathedral, located in Valletta, Malta, was built by the Knights of Malta between 1573 and 1578 having been commissioned in 1572 by Grand Master Jean de la Cassière as the conventual church of the Order of the Knights Hospitaller of St John, known as the Knights of Malta.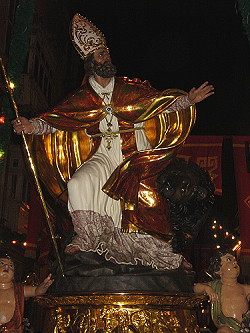 The Church was designed by the Maltese military architect Gerolamo Cassar who has designed several of the more prominent buildings in Valletta. The severe exterior of the Cathedral, built immediately after the ending of the Great Siege of 1565, is reminiscent of a military fort.
The inside is in sharp contrast to the facade as the extremely ornate interior decorated in the height of the Baroque period. The inside was largely decorated by Mattia Preti, the Calabrian artist and Knight. Near the main entrance one finds the monument of Grandmaster Fra Marc' Antonio Zondadari from Siena. He was the nephew of the Pope.
The main altar was covered in silver but Napoleon Bonaparte stole the silver. The candlesticks on the main altar and the lamp hanging in front of the main altar are both in solid silver. They were a present from one of the Grand Masters.

Churches in Malta and Gozo dominate the skyline and the domes and steeples can usually be seen from many miles away. You can usually find the centre of a town or village by driving towards the parish church although many towns and villages usually have two or more churches and chapels.
The churches of Malta and Gozo are usually very interesting buildings, both from a historical and architectural perspective. They are especially popular during the festivals.
The best way to know the local people in Malta, is to join the crowd during the festivals. With useful background information about the lifestyle and culture, it even make it more interesting.
Stein Morten Lund, 15 June 2006