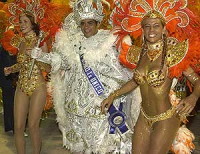 Photo. Happy people show their most beautiful costumes. Photo Copyright: Brazil Explorerer.

Feel the Samba beet from thousand of drums, enjoy all the beautiful decorations, colourful costumes and dance the nights away.

During the Carnival the city will be turned upside down. On the parade route in front of Copacabana beach, dancers on floats in feathered costumes and sequined bikinis are swaying their hips to the drum beat, and fans are cheering them from the sidewalks.
The Carnival is a four day event that changes dates every year. It begins forty days before the Catholic holiday, Lent. The celebrations start Friday, prior to Ash Wednesday up until the following Tuesday. Ash Wednesday is a day used for recovering from the previous sleepless nights.
Be aware of that Carnival is the peak holiday season in Brazil. Offices and businesses close during the festivities. Since Brazilians take time off and travel, you have to plan your trip well in advance. Remember, you are competing for a hotel room, not only with tourists from all over the world, but also with Brazilians.


Photos from the carnival in Rio 2001 (Photo Copyright: Brazil Explorerer - www.brazil.de):

Be prepared for the coming carnivals in Rio
Don`t miss it! To help you to plan your trip, so you can experience one of the best carnival celebrations in the world, we have listed the coming carnival dates in Rio here:
5, 6, 7, 8 February 2005
26, 27, 28 February and 1 March 2006
17, 18, 19, 20 February 2007
2, 3, 4, 5 February 2008
21, 22, 23, 24 February 2009
13, 14, 15, 16 February 2010
Discussions......
Is the Carnival celebration in Rio the best in the world? What's your opinion? Express yourself on our website and let others read your comments.
Stein Morten Lund, 23 November 2004

Additional information
Read more about the carnival on the ultimate guide about Brazil - the website Brazil Explorerer: www.brazil.de.


More information coulb be found on the website
Brazil Tourisme:
www.braziltourism.org
.
Advertise

Contact us in Travel Explorations for advertising. Send e-mail to: stein@travelexplorations.com

Explore more of Brazil, and start your Amazon adventure tour .....
Company:
Address: ....... Brazil
Phone Office: ....
Fax: ....
Website: ....
E-mail: