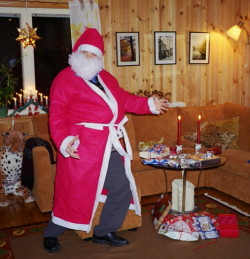 The popular man Santa Claus has many nicknames. Some of them are Father Christmas - UK, Papai Noel - Brazil, Jultomten - Sweden, Julemanden - Denmark, Julenissen - Norway, and Joulupukki - Finland.
The tradition in USA is to give Santa a glass of milk and cookies, and in Britain he is served sherry and mince pies, but in Norway and Finland the people give Santa something stronger as Christmas Beer, Aquavit and Vodka. Then Santa starts dancing the Støvel dance. If you go to Norway in the Christmas season you will hear and see the Støveldance in pubs, bars, clubs and discos.
Click on the link for viewing the VIDEO CLIP: Santa Claus - the Stovel Dance .

Some of the lyrics from the song go likes (included translation of the Norwegian words):
Put some Christmas Beer in your cup, and drink it up. Clap your boots. Forget the trouble, drink a double. Dance a little støvel dance. Dance it while you have the chance.
The original song was made of the popular Norwegian group Travellin Strawberries from the very successful TV-programme The Julekalender on TV2 in 1994. A new version was made of the song for few years ago as you hear on the video clip.
Go to Norway and Finland, and meet the real Santa Claus. Perhaps you can dance the Støveldance with him! Merry christmas to you all!
Stein Morten Lund, 2 December 2005
Additional information
Read more about Santa Claus and Christmas celebration on our global travel guide Travel Explorations .
Lyrics from The Støvel Dance of the Norwegian group Travellin Strawberries:
There is juleøl in the tynnj
Then the fæst will soon begynnj
Put some juleøl in your cup
When it's drokke fyll it up
I can hopp - I can run
And it's very, very fun
Klask your lår - klask your støvel
I can hopp - I can run
And it's very, very fun
Glæm the trouble - drink a double
This is a song I like to hør
This is music for my ør
Dance a little støvel dance
Dance it while you have the chance
I can hopp - I can run
And it's very, very fun
Klask your lår - klask your støvel
I can hopp - I can run
And it's very, very fun
Glæm the trouble - drink a double
On and two and three and fir
Go and swing a nissepi
Five and six and sju and ått
This is good for a nisseknott
I can hopp - I can run
And it's very, very fun
Klask your lår - klask your støvel
I can hopp - I can run
And it's very, very fun
Glæm the trouble - drink a double