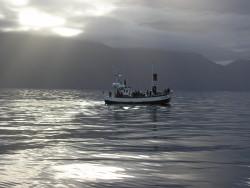 Photo.
Husevik whale watching boat. © Joe Gill.
We had arrived two days before on a 40 minute flight from Reykyavik to this fjord town 60 miles from the Arctic. Whale watching, pony riding and spectacular landscape were promised, and delivered. But the late-night drinking was proving more elusive.
Going to the favourite karaoke pub in Akureyri, north Iceland, at 9pm on a Saturday night when most UK towns are already heaving, we found the pub shut and empty, lights on eerily. The next bar that was open was more than quiet, with 70s Elton John and Hotel California playing, designed to put you in the mood to go home and sleep.
Akureyri's bohemian cafe, Carolina, did not feel very alternative, but we waited in hope. Beer is famously expensive here, and drinking out was banned until 1989, although the local brews served actually taste of something, which is more can be said of the all-pervasive wife-beater brews back home.
The young Akuyrerians at Carolina were heading to the upstairs bar. We followed. Plonking our selves in a corner we got to talking about history, economics and the role of great men and the masses in history, the usual banter for drunken historians and political scientists. I was the writer here to get inspiration, he the political scientist enjoying a holiday after an academic conference in Reykjavik. Eventually things livened up.
Photo. The author, Joe Gill from England, by Lake Myvatn.
© Joe Gill.
A fashionable young fella with laptop- a standard item in bars and cafes in Iceland - proclaimed himself an artist from the Canary Islands, and made friends with us. He had survived 2 winters here, which he explained required great psychological strength and inner reserves. He made ends meet by killing sheep at the local abattoir during the winter, then working in cafes and teaching art in the summer. He had made plenty of money, he assured us, while seeing life from another perspective, and delivering death to the sheep, all for his art. He said winter was the best time to be in Iceland, and the big white-haired man he drank with, with a wind tan and an infectious laugh, agreed heartily.
Before we could say 'odd couple', two more pints appeared in front of us courtesy of the laughing Icelander. Proceedings were under way. We were soon joined by some good-looking youngsters, a man and two girls. They were friendly and tried out there English on us. A blonde and brunette, may be our luck was in. They turned out to be 15 and 16.
Then Mullah Omar turned up, 6' 4", brooding, woolly hat, thick beard and eyebrows, Afghan style long coat. He did not say much, staring at my friend and strangely not drinking beer. We were assured that he was 100% Icelandic and was only dressed like that for the look.
As for the ghostly appearance of the rest of town, we were looked on kindly for our naivety. No self-respecting Icelander leaves the house much before midnight. They stay at home until then, before starting a long night of drinking till the early sunrise sends them home.
Photo. Gullfoss waterfalls in the south of Iceland.
© Joe Gill.
This golden waterfalls come from the mighty glacial river Hvita (White river). The cascade drops 32 metres into a narrow canyon which is 70 metres deep and 2.5 kilometres long.
An Icelandic journalist, out with her husband, drunkenly tells me the English are too polite, and asks if I share the affection of the artist, who has been paying me a lot of attention, or whether my friend is my boyfriend and I say no, I am straight. The artist says he is going home, but changes his mind. He exhausts us with his life story of escaping a conservative Catholic village and fleeing to the arctic.
The journalist says Hugh Hefner came here a few years ago and insulted Icelandic womanhood in his search for the blonde, busty archetypes for his empire, by calling Icelandic women the "Thais of the north". The town of Akuyreri was once famous for having the highest density of strip bars in Europe, much frequented by fishermen, until the local authorities brought in a prohibition on touching and private dancing, which took all the fun away. Now the fishermen have to go elsewhere for their kicks. And leaving us with nowhere to go later.
Photo. The Blue Lagoon.
© Joe Gill.

Swimming here is wonderful. The temperature in average is about 40C (104F), and the soothing, mineral-rich water is believed to have curative powers.
I discuss the behaviour of Icelandic and English women with the journalist, now tipsy. She had seen an English woman in flagrant in the kids' swimming pool in Spain, and assures me an Icelandic woman would never do that abroad. At home, in contrast to the English, the Icelandic girl will do things on a night out she would never do on holiday. I agreed, politely of course. She then invites us to go whale watching the following day.
High latitude cruise ships still often stop at the Akureyri fjord. The local airstrip is served by several propeller planes a day, diving in along the steep glacier valley to the landing strip which has been built out into the water.
Photo. Myvatn volcano.

The shadow in the foreground is me taking a picture of my friend climbing up from inside the volcano.
© Joe Gill.
If you ever wondered where they shoot those implausible car ads, the ones with the chisel-jawed man driving serenely through mountain scenery on empty roads with only the occasional puddle or mountain sheep to impede his journey, the answer is Iceland. The trip by hired car from Akureyri to Lake Myvatn (translation Midge Lake, and there were midges) left us speechless and blessed out in amazement at the vistas of nature in all directions.
| | |
| --- | --- |
| Photo. Joe Gill, the author, is looking into a cave in Lake Myvatn. © Joe Gill. | |
Iceland is the size of Ireland with a tenth of the population, and most of it is uninhabited which, for a Londoner from one of the world's most crowded islands, is enough to make you feel like a prisoner on day release. The country's population could fit into a south London suburb.
Northern Iceland substituted for the Moon for the early NASA spacemen, who climbed the craters that, being no older than the Bible, are as moon-like as you could expect. I ran up and down one, kicking moon dust and rocks. There are strange volcanic landscapes that would happily substitute for the polystyrene Star Trek sets of old. Sulphurous lagoons, fluorescent blue and heated by geothermic faults, transport you to the spa of the gods, or superman's back yard.
On a clear day out on the plateaux you can see hundreds of miles of wilderness, fast rocky rivers snaking through green plateaux, great waterfalls and geysers. When it rains and the wind blows, which it does readily in August, you take your life in your hands and can barely get out of the car in an exposed stop. If New Zealand did for Middle Earth for Peter Jackson, I think Tolkien must have been thinking of Iceland with its sagas, giants and skulking mountain ranges. The old folk still believe in elves here, who will kill your sheep if you cross them.
Iceland is made from the collision of two continental plates, creating a high plateaux which was then sculpted by the ice. So much of its geology is only 2000 to 12000 years old; it's like being transported back to primordial times. Only roads and the occasional lonely farm house spoil its rugged nature.
Back to civilisation, Reykjavik has a density of cafes and bars per square inch probably as high as Amsterdam. Each is distinct and intimate. Sirius gives you rock cool, big guys with Viking beards sipping pints, girls with sharp bobs and thick-rimmed specs getting animated, to a blues rock sound track. At another more subdued cafe, laptops are the favoured accessory.
Refill coffee is the great mercy in a land whose prices make you feel giddy even coming from London. Every day out is like being mugged with a smile.
I didn't mention food, perhaps because it's expensive and mediocre. Pizzas and burgers are the staple and a fish main course costs £30. I had a great lobster soup on the remote island of Hirsa watching the rain outside, the culinary highlight. A local delicacy is puffin, best smoked. Strange on an island made wealthy by fishing, they don't eat seafood, perhaps something to do with being a US base since world war two.
I go home to London knowing that I will cherish my £3 pint and marvel at our low cab fares. Car hire is £50 to £80 a day in Iceland but compared to local bus fares - try £20 for a 30 mile drive from Akureyri to the whale-watching resort of Husavik - that makes car-hire the best way to travel. Unless you do it like the intrepid Polish students we picked up en route, hitch hiking and tent pitching across the whole island to save money. As the saying goes, life is cheap but Iceland is expensive.
Joe Gill, 12 September 2005
Presentation of the author:
Joe Gill is a freelance journalist working in London, specialising in the non-profit sector, international development and Latin America.

Photo. Joe Gill from England.
© Joe Gill.

Contact details:
Joe Gill, journalist, London 44 207 607 4120.
(M) 07748597168
(H) 0207 6074120
E-mail:
joegill00@hotmail.com
Little known facts:
1. England invaded Iceland in 1940, ending Danish rule of 600 years.
2. Poles are now the biggest immigrant group on the island.